8 software demo tools for SaaS sales teams

8

min read
Reading Time:
7
minutes
If you're a sales leader comparing software demo tools for your team, you've come to the right place. In this article, we'll break down eight of the leading SaaS demo solutions so you can pick the best one for your needs.
Benefits of software demo tools
The way we buy and sell SaaS products has changed dramatically over the last decade. In the age of instant gratification, prospects no longer want to hear what your product can do for them. They want to see it in action and experience it for themselves. They want to make informed, empowered, independent decisions. And they want it all now—with or without you present.
But don't worry. The days of waiting weeks for R&D to build an interactive demo environment, or incorporating product screenshots into your PowerPoint presentations (yawn), are over.
Today's software demo tools make it quick and easy to tailor targeted, interactive demos for every prospect without a developer—or a delay. And because prospects can navigate these demos independently, they'll understand your product's value before the first sales call and be more likely to convert from day one.
8 software demo tools for SaaS sales teams
Here are our top picks for sales teams that need to deliver immediate value to prospects:
Now let's dive into each one.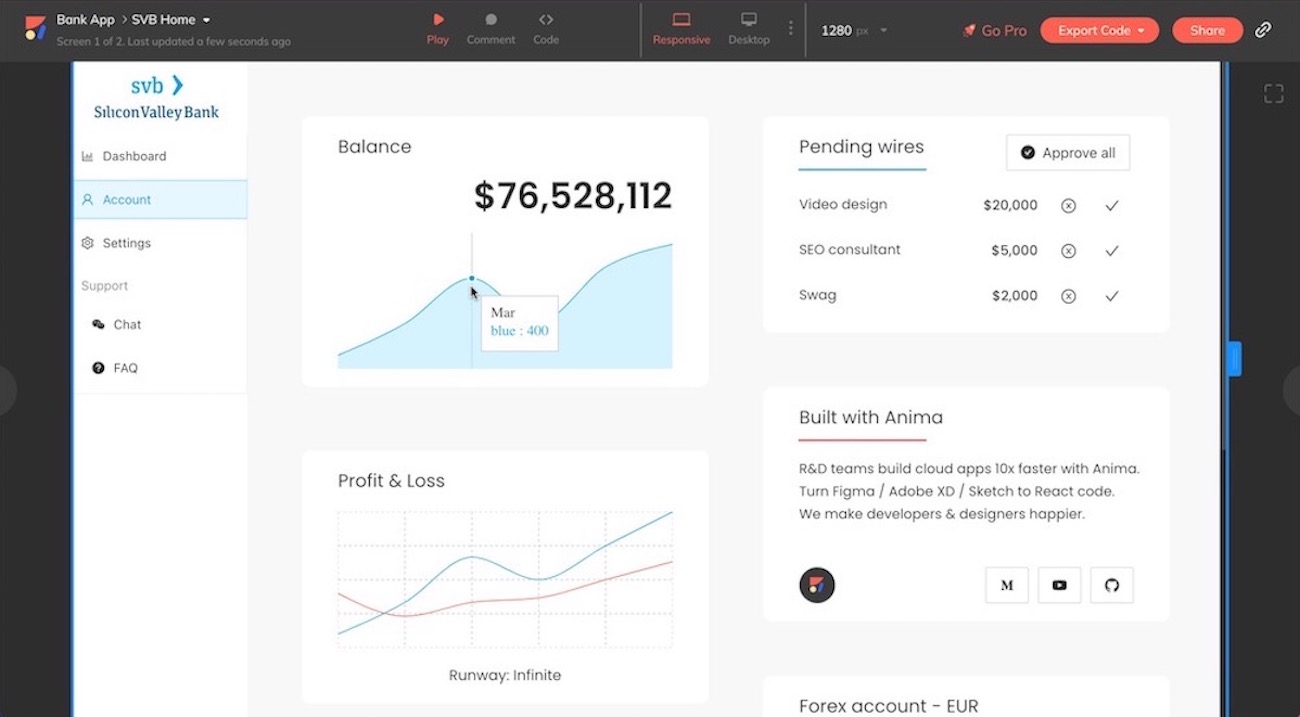 How it works
Anima is the only tool on this list that lets you sell new features without involving R&D. In one click, you can turn any Figma design into an interactive, responsive demo prototype that looks, feels, and functions like the final product. That means prospects can actually experience your offering firsthand, with interactions, animations, transitions, and rich media fully intact. 
And since demos created with Anima are HTML-based, you can share live links, download and use them offline, and embed them into websites and landing pages. It's a great tool for selling potential or upcoming features that haven't been sent to development yet.
Anima also integrates with user analytics tools like Hotjar and Fullstory
, so you can track demo performance and prospect engagement, and aggregate feedback to hone your sales approach.
Pros and cons
✅ Sell features that haven't been developed yet
✅ Generate fully interactive, responsive product prototypes from Figma instantly
✅ If you can add or change it in Figma, you can include it in your demo
✅ Share a live version of your product, not a stitched series of static screen captures
❌ Lacks built-in analytics tools (but easily integrates with several)
❌ Requires basic knowledge of Figma and/or coordination with designers
Integrations
Pricing
Free plan:
$0/month
1 project with up to 5 screens
Unlimited free seats
Can't export code
Pro plan:
$49/month per pro seat
3 projects with up to 15 screens
1 pro seat included
Export HTML, React, and Vue
Custom domains
Priority support
Enterprise plan:
Starts at $790/month
Custom number of screens and seats
Advanced security and SSO
Premium support from a dedicated account manager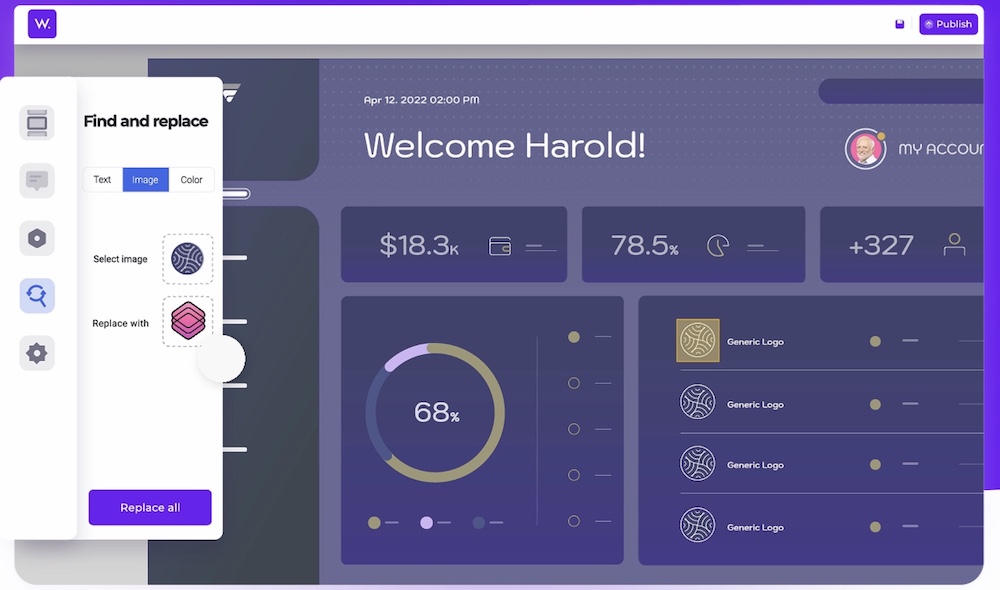 How it works
Walnut was one of the first interactive software demo tools to hit the market, and helps you quickly create tailored, interactive software demos for your prospects without a developer. All you need to do is capture your product's screens from your web browser, then use Walnut's codeless visual editor to customize text, images, features, and colors for each prospect.
You can also create templates for specific use cases to quickly scale your demo delivery, and add custom HTML for more detailed demo edits. Plus, Walnut's integrated analytics tools allow you to track demo performance and weed out unengaged prospects.
Pros and cons
✅ Works alongside your existing SDR processes
✅ Fast and easy to use, even with limited technical skills
✅ Template creation and demo libraries are great for sales teams at scale
❌ You can't add new elements without a developer.
❌ No live product simulations—only guided tours of your captured screens.
Integrations
Pricing
No standard pricing packages—Walnut tailors pricing for each customer.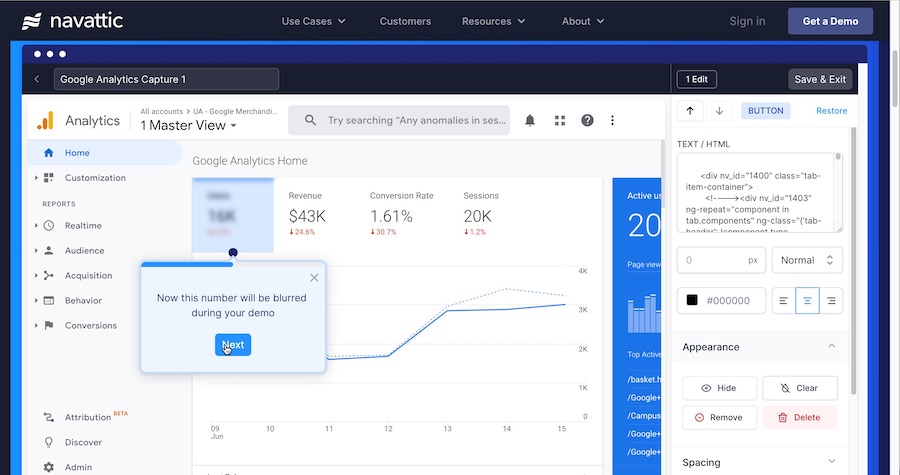 How it works
Like Walnut, Navattic allows you to capture a pixel-perfect copy of your product's frontend, and customize, blur, or remove existing elements to personalize your demo. You can then share a link with prospects or embed your demo directly into your websites and landing pages.
Add prompts to targeted demos to guide your prospects through relevant features, or create self-guided tours that let them select the features or use cases they want to explore. Pair this with Navattic's seamless CRM integrations, and you'll be able to track feature interest before the discovery call.
Pros and cons
✅ You can drive more qualified leads during presales with instant time-to-value.
✅ It's a simple workflow, demonstrated on their homepage.
❌ There's no template library feature, so every demo will be a one-off.
❌ You can change or remove existing elements, but you can't add new ones.
❌ No custom HTML—limited to Navattic's customizations
❌ Product tours not optimized for mobile
Integrations
Salesforce
Hubspot
Marketo
Segment
Google Analytics
Zapier
Pricing
Standard pricing isn't available—contact Navattic for plan pricing.

How it works
Reprise is a powerful demo tool that's well-integrated with sales and marketing toolkits and features robust built-in analytics. You can easily capture individual screens or your entire application, customize elements, and create guided tours for your prospects.
What sets Reprise apart from most other software demo tools is its ability to generate interactive product simulations. That means you can share live, functioning prototypes of your product instead of static demos with prompts—although you can't add new elements, change layouts, or demo anything that hasn't been developed already.
Pros and cons
✅ Personalized, interactive product simulations without a developer
✅ The most comprehensive built-in analytics dashboard on the list
✅ More customization options than most
❌ A complex user interface with a steep learning curve
❌ Can't add new elements or features to demos without R&D
❌ No HTML editing
Integrations
Salesforce
Hubspot
Marketo
Google Analytics
Pricing
Free trial:
$0/month
Lightweight version with limited features
Comprehensive paid plan:
Customized to customers' needs
Starts at $1000/month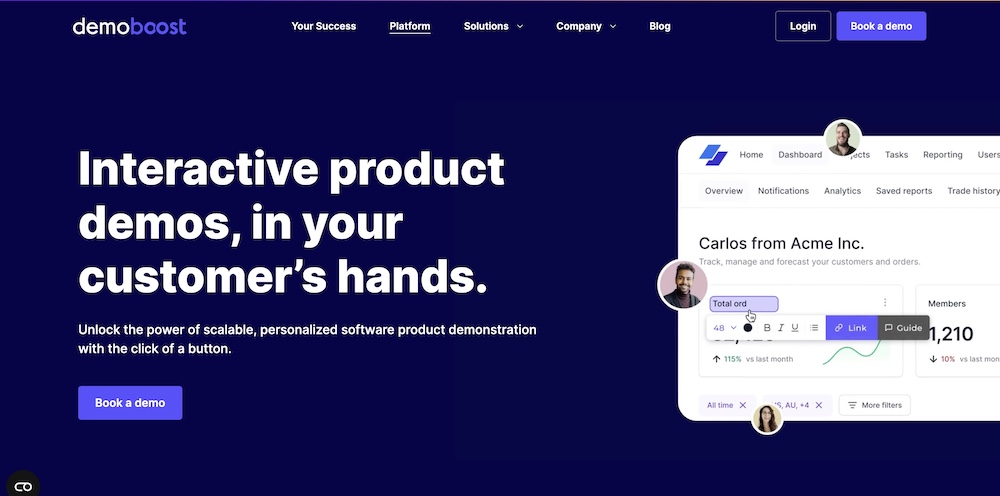 How it works
Demoboost's software demo tool makes it easy to clone demo versions of your product, showcase multichannel journeys, and highlight integrations in your demo flow. You can also create demo libraries for quick and easy repurposing.
Although your customization options are limited compared to Anima and Reprise, they're still pretty robust. Plus Demoboost's enhanced demo interactions—like the ability to submit a rating score—are great for both engagement and optimization.
Demoboost integrates with popular CRMs, and while its built-in analytics might not be as powerful as Reprise's, its real-time prospect interaction notifications can help presales and sales tailor their approach on a dime.
Pros and cons
✅ Easy to use with above-average personalization
✅ Multichannel journey creation
✅ Real-time prospect interaction notifications
❌ Can't add or rearrange elements
❌ No custom HTML input
❌ Limited integrations & fewer baked-in features than others on the list
Integrations
Pricing
Not available—contact Demoboost for custom plan pricing.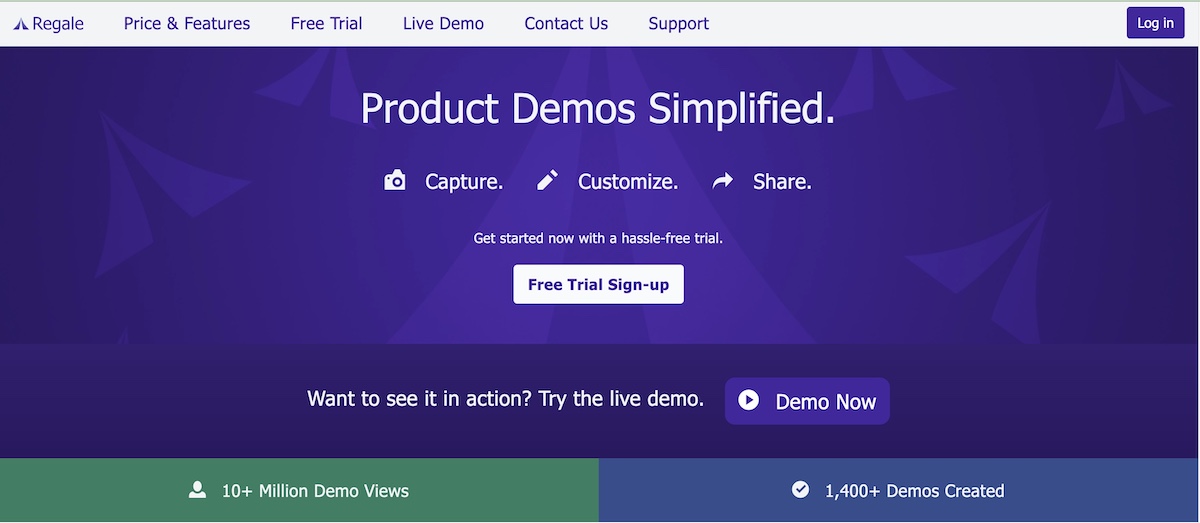 How it works
Regale is a Windows desktop application that lets you easily capture your product's images and animations, track where you clicked, and assemble a demo. The intuitive builder simulates a live demo without developer involvement, including page transitions and text inputs. You can even export to a static HTML site.
Although you can't customize elements like you can with other tools on this list, you can create both guided tours and a more realistic product experience. Plus you can view detailed analytics for simulations.
Pros and cons
✅ Simulate your actual product
✅ Create self-guided multiple-path demo scenarios
✅ Export your demos as static HTML sites and share a link
❌ Only works with Windows OS
❌ No customization options
❌ Self-contained—no CRM integrations listed
Integrations
No CRM integrations
Connects to Microsoft office tools like PowerPoint
Pricing
Regale offers a free limited trial, and paid plans start at $960/year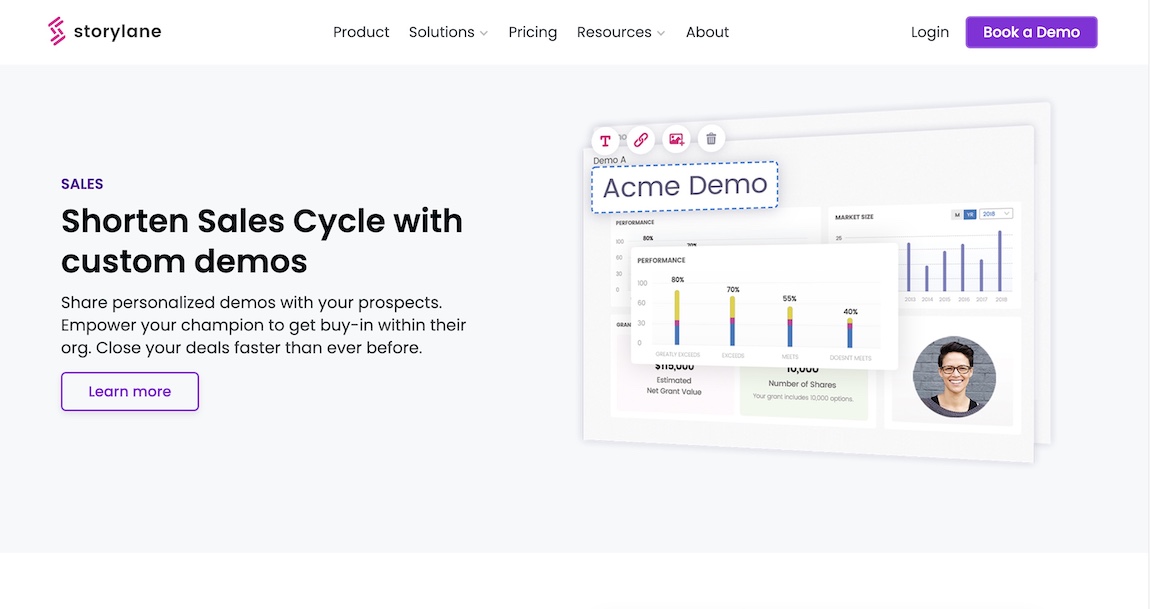 How it works
Storylane's browser extension captures your product's screens and interactions, then turns them into guided tours with simple drag-and-drop tools. It allows you to change images, content, and files with its no-code editor, and create a branded look for your demos in minutes.
You can create unique demo links to embed or share, and even generate gifs of your chosen flow. Storylane's analytics suite is also powerful and gives you an in-depth look at user engagement, interactions, and clicks—and pushes data to a number of popular CRMs.
Pros and cons
✅ Easy to learn and intuitive to use
✅ Lots of CRM integrations
✅ Create unique demo URLs
✅ Add custom HTML for more customization
❌ Limited customization options beyond images, content, and files
❌ Only replicates image-based screens—overlayed guides make it feel interactive
Integrations
Zapier
Salesforce
HubSpot
Marketo
Pardot
Pricing
Free plan:
$0/month
1 published demo
1 user
Walkthrough widgets
Analytics
Startup plan:
$50/month per user
Screen recording
Full product tour
Advanced analytics
Zapier & Hubspot integrations
Growth plan:
Custom pricing
Includes everything in the startup plan, plus
HTML application capture + demo editor (text, image, graphs)
Custom number of users & teams
Personalization + clickable live demos + lead forms
Integration with Marketo, Pardot, SDFC
Dedicated Support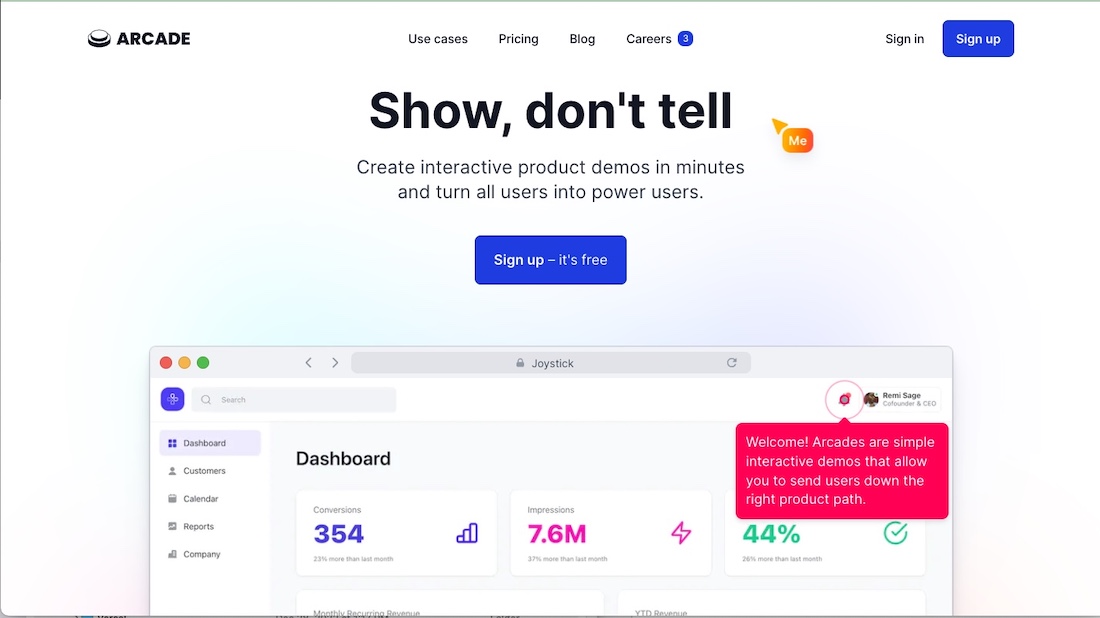 How it works
Arcade automatically captures user interactions as you navigate through your product, and creates a unique demo that can be easily shared. You can also add interactive features like surveys and polls, so you can understand how users interact with your product. You can't customize product elements for targeted demos, but Arcade is faster and more intuitive than most tools on this list.
Arcade's analytics suite is comprehensive, offering views of customer engagement metrics across multiple demo versions. With its AI-powered insights, you can identify areas of improvement and quickly adjust your demos for better results.
Pros and cons
✅ Quick to learn and easy to use
✅ Add interactive features like surveys and polls
✅ AI-Powered insights for real-time feedback
✅ Comprehensive analytics suite with customer engagement metrics.
❌ No product customization options
❌ Limited integrations
Integrations
None listed
Pricing
Builder plan:
Free
Up to 3 publicly shared demos
Pro plan:
$32/month per seat
Unlimited demos
Basic analytics
Team plan:
Custom pricing
Everything in pro, plus
Collaborative demo building
Advanced analytics
Custom branding
Wanna demo new features before they go to development? Anima can help.